Whenever you think of green transport, chances are you will think of the railways. Moving millions of people every day in a way that is less polluting than if they all travelled by car. In the 14 largest cities in the UK, 1.8 million people arrive by train every day, on one of the busiest railway networks in Europe.
If you look at the data, you would be forgiven for thinking that the railways does not have an air pollution problem. Data from the European Commission shows that railways emit barely 1% of all transport NO2 emissions, and less than 0.5% of transport PM10 emissions. A huge investment in new, cleaner trains such as the Class 802 bi mode trains, and the new Azuma trains on the East Coast Mainline, are replacing ageing diesel trains.
But looks can be deceiving. Railways do have air quality problems, and whilst their scale is dwarfed by road vehicles and aviation, tackling these issues is no less important. So how do these issues manifest themselves?
The obvious example is in enclosed railway stations where diesel trains sit idling. Trains are complicated pieces of machinery, and its not a case of turning a key to start the engine like you would a car. So trains can be left idling on platforms, spewing particulate matter into an enclosed environment.
A recent study by Kings College London and Edinburgh University found that particulate matter levels inside stations can be as high as the streets outside. A study at Birmingham New Street station – the 6th busiest railway station in the UK and where we will be working shortly – found particulate matter levels on platforms vastly exceeded EU limits.
This is not just a danger for passengers, but perhaps more significantly, it poses a significant health risk for station staff. Particularly those who work close to platforms where diesel trains idle or stop on their journey.
Whilst there has been significant efforts to replace the ageing diesel trains such as the Intercity 125s and the infamous Pacers, diesel trains still present air quality issues for communities unfortunate enough to live alongside the lines they operate on. In West London, for instance, a notable line of high levels of PM10 emissions can be seen following the Great Western Mainline, until recently plied by diesel intercity and commuter trains. Whilst the concentrations may not be as high as on neighbouring roads, tell that to the local residents.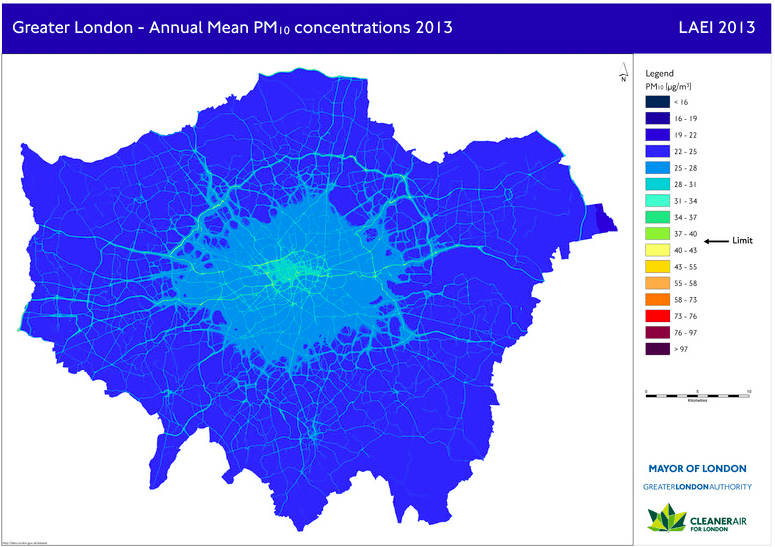 A final issue is new construction and engineering works. It seems ironic to think of this during this week, after significant engineering works closing much of the railway over the Bank Holiday weekend, and of course the review of HS2. All such works require a significant amount of heavy plant and machinery to transport materials, aggregates, tracks, signalling cables, and overhead wires and gantries. As well as the workers to do all the work.
Planning the logistics of this work is a tough job, especially where track access points are limited. Lorries and trucks need routing in a way that reduces local air quality impacts on communities, and of course can be monitored for any breaches. The railway wants to be a good neighbour after all.
Luckily, the railway appears to be doing its bit. The Railway Safety and Standards Board (RSSB) is undertaking projects to improving monitoring of air quality on the network. While Network Rail has adopted best practice standards for reducing its air quality impacts when undertaking maintenance work. As well as the huge investment in new trains and electrification.
But as always, more can be done. Its time for the railway industry to boost its already impressive environmental credentials, and leave road transport in its wake on improving local air quality. Its time for it to be more innovative in doing this.