Cross River Partnership (CRP), a visionary non-profit organisation, has secured £1m in air quality grant funding from the Department for Environment Food and Rural Affairs (DEFRA) to deliver the Smarter Greener Logistics (SGL) project (July 2023 – December 2024).  
Spearheaded by Westminster City Council, the project will run in conjunction with 26 partners, including EMSOL. These partners will focus on improving air quality in GLA Air Quality Focus Areas (AQFAs) in central London where both population numbers and air and noise pollution levels are at their highest. Partners have been meticulously selected for their expertise, experience, interest, and commitment to reducing emissions. 
Following last year's success of the Clean Air Logistics for London (CALL), the aim of the new SGL project is to move even more freight into London via river, rather than road. This will be supported by a network of highly visible zero emission delivery methods including electric vehicles, cargo bikes and walking freight.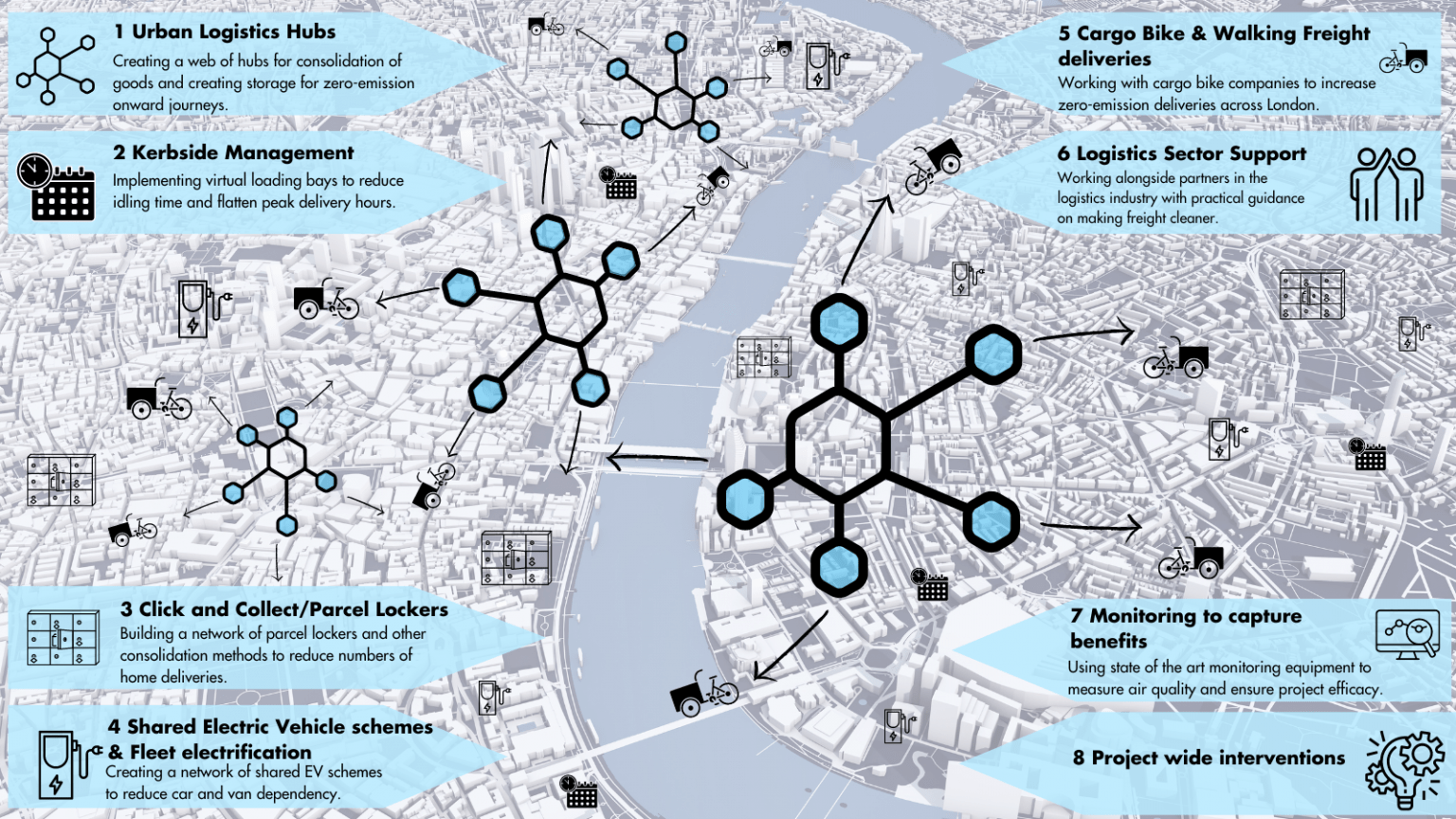 What's the Smarter Greener Logistics project's goal? 
SGL's goal is to transform central London's freight landscape by improving air quality and easing road congestion across 15 boroughs and four major business improvement districts. The ultimate aim is for the strategic partners to collaborate and create a healthier and safer place for people to live, work and explore.   
EMSOL's technology will play a crucial part in identifying the who, what, when, where, and why of air and noise pollution. Its real-time data analytics will empower those involved to take measures to ramp up their sustainability measures and reconsider more sustainable freight options. 
Environment Minister, Rebecca Pow from DEFRA, has stated that:
This funding (to CRP) will support a range of inspiring and innovative projects across the country – stepping up our monitoring of harmful pollutants…and boosting the use of green transport. 
Clearing The Road To Clean Air 
We all know that road transport is a major cause of pollution in London. Carrying goods from one place to another by vehicle not only adds to noise pollution, but also leads to poorer air quality for everyone. What's clear in the fight for clean air is that  we must collectively tackle this major contributor to pollution. 
Sustainable Logistics 
Expanding river freight in London will reduce both congestion and pollution at the same time. With the growing importance of sustainable supply chains, the focus has been inevitably placed on the greening of logistics activities. It's also essential to meet customer requirements, not only by reducing costs in monetary terms, but also costs associated with climate change, air pollution, noise, vibration and accidents. 
The Weight of Freight – Relieving the Burden 
As part of CALL, EMSOL's, 'River Thames Freight Monitoring Report 2022 identified a compelling case for relieving London's roads from the weight of freight. The report found that moving more freight by river is a quieter, greener way of transporting goods as it:
Causes less noise pollution (NOx)
Has the potential to reduce emissions
Boasts lower levels of particulate pollution (PM 2.5 and PM 10)
EMSOL data was able to accurately identify emission levels attributable to vessel activity. When looking at the bigger picture, especially in relation to SGL, this data detects trends which feed recommendations for operational changes. So, could London's waterways become the ultimate weapon and catalyst in the fight against poor air quality?
According to Freddie Talberg, Founder and CEO of EMSOL:
Transport of goods on inland waterways can be done sustainably and with low impact on air quality.
Cleantech Meets Sustainability
The importance of monitoring emissions has already been identified as key in the battle to reduce them. 
EMSOL's platform gives customers the power to identify root causes of emission issues by identifying 'peaks' of pollution or pollution events. It combines data, images and video, to attribute pollution events to specific site or vehicle activity. This data is essential to securing commitment from major stakeholders involved in greening freight transport. 
Such data enables organisations to develop interventions with laser precision, zooming in on the sources and patterns of pollution. This is key to the success of the SGL project, where the resources need to be allocated to the most polluted areas. 
Driving Sustainability 
Working with partners who can monitor emissions performance, ensure compliance, and keep supply chains running is critical. After all, no one wants logistics operations to grind to a halt. Instead, the focus is now shifting to cleaner, greener logistics.
This is where the SGL project will step in to encourage sustainable logistics in London. The goal is to keep services running and to offer sustainable and workable alternatives to organisations.
What Lies Ahead? 
There's no doubt that assessing and monitoring the impact of freight transport can help us identify more sustainable logistics options.  
EMSOL's data analysis has already confirmed that even just transitioning from road to rail is more sustainable and can lead to cleaner air. So, if we know what needs to be done and have EMSOL's scientific data and impact reports providing the evidence, what's the catch?
It's without doubt that investment is key. From government funding to investing in Cleantech, we need to work on building the right infrastructure for change.
You can read more about EMSOL's current crowdfunding campaign here.